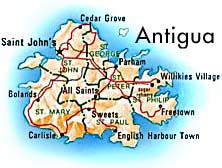 Antigua and Barbuda are located in the middle of the Leeward
Islands in the jewel of the blue Eastern Caribbean Waters, 17.1 degrees North of the equator and 61.5 degrees West. The current population of Antigua is approximately 68,000. Its capital is St.John's.
Size: Antigua, the largest of the English-speaking leeward Islands, is 108 square miles (280 sq km).